Last Updated on June 16, 2021 by
This is a guest post from our friends Dariece and Nick from Goats On The Road. They've visited many remote parts of the world and today they're sharing with us a list of the best off the beaten path places.
There are many well-known tourist destinations in the world, and they're popular for good reason. But, imagine having incredible local experiences, lazing on world-class beaches, and exploring untouched terrain…with hardly a tourist in sight!
Getting off the beaten path once in a while is something that every traveler should aim to do, the experiences you'll have, the people you'll meet and the sights you'll see will remain in your memories for years to come.
1. Georgia
Little war-torn, post-Soviet Georgia is set in the perfect part of the world. It's close enough to Europe to make it easy to travel to and it's set at a crossroads between Russia, Europe and Central Asia, which provides it with some stunning landscapes.
Georgia retains an identity all its own. Georgian people are not Turks, Persians or Russians, nor do they have an ethnic connection with any other people, but there are various Georgian ethnic groups living here: the Kartveli, Mingreli, Laz, and Svan to name a few.
The Capital of Tbilisi is aesthetically pleasing, with rocky mountains as a backdrop and a windy river cutting through the main part of the city. You'll be greeted with funky, cobblestone alleyways, numerous cathedrals, interesting architecture and a very liberal vibe compared to neighbouring Turkey.
Georgia is said to be one of the oldest producers of wine in the world and sniffing, swirling and sipping some of the delicious reds and whites should be high on your list! Much of Georgian food isn't exactly healthy, but it is delicious. Think lots of bread, cheese and doughy foods. Definitely try the Khachapuri and Khinkali.
Outside of Tbilisi you'll find stunning countryside perfect for hiking, walking and wandering. You can visit monestaries, mountains, wineries and UNESCO World Heritage Sites. The villages beyond Tbilisi are very off the beaten path and you'll always be welcomed by the locals.
As an added bonus, Georgia is a very affordable travel destination.
2. Grenada
Grenada is an island in the Lesser-Antilles in the southern Caribbean. Located just 140 kms north of Venezuela and very close to Trinidad & Tobago, this gorgeous atoll bobs silently in the sea, with hardly a tourist in sight. When people think of the Caribbean, they typically think of the northern countries of Cuba, Dominican Republic, Jamaica, or even St. Lucia and Barbados further south, but no one ever talks about the Spice Island of Grenada!
Because Grenada isn't as popular as some of its neighbors, this mountainous island retains its authentic Caribbean feel. It is rugged, unpretentious and has just the right amount of amenities to make a traveller feel comfortable.
This is a country with loads of activities on offer – try sailing, scuba diving, snorkelling, kayaking, cycling or deep sea fishing! When you're bored of that, you can laze on pristine beaches, hike to towering waterfalls or just go for a leisurely stroll through the jungle. St. George is a colourful capital city that is often regarded as the most beautiful town in the Caribbean.
Grenada has it all.
3. Iran
Many people consider this Islamic Republic to be a dangerous place to visit, with government travel advisories listing it as a country to "avoid all travel". However, if you actually do some research and go to Iran, you'll see the country for what it truly is. You'll be completely dumbfounded as to why these warning messages are displayed around the web.
The diversity of Iran is amazing. One day you can be visiting the Persian Gulf, gazing out at the beach and enjoying the fishermen coming in with their daily catch, while the next day you could be visiting the desert with rolling sand dunes and sauntering camels. Head north and you'll find towering snow-capped mountains with captivating Troglodyte Villages.
This is a country with incredible Islamic architecture. The mosques, mausoleums and minarets are adorned with intricate mosaics and designs, some of which are true feats of construction. The covered bazaars are exciting, with wafts of exotic spices filling the air. The modes of transportation are safe, clean, cheap, comfortable and run like clockwork.
But the most amazing thing about Iran is the people. Iranians are very concerned about how the Western world portrays them. You'll be bombarded with questions about what you think of Iran (in a friendly way of course).
The locals are extremely hospitable with travellers often enjoying week-long stays in complete stranger's homes. People will speak with you on buses, invite you over for tea and help with directions whenever you look lost. Iranians are very friendly.
On top of all of this, Iran is extremely safe, affordable and easy to get around.
4. Tajikistan
Taj-iki-what?! Hardly anyone knows about Tajikistan, which has to be the most oddly shaped country in the world. This nation is one of the jagged, jigsaw puzzle countries that makes up Central Asia. Another former-Soviet republic, this country is not without its economic faults and unstable history. However, backpacking through Tajikistan as a tourist is an incredible experience.
93% of this country is mountainous! The unbelievable Pamir Mountain Range runs though Tajikistan along with the Alay Mountains and the Tian Shan range. Some of the highest mountains in the world are found here, which means you'll be in for some very scenic drives and some outstanding trekking!
Sleeping in yurts and homestays, spotting the rare Marco-Polo Sheep, road tripping on the 2nd highest highway in the world (the Pamir Highway), eating unique foods and meeting friendly faces with Persian, Arabic, Caucasian and Asian features are all highlights of this tiny country.
Travel in Tajikistan isn't easy, but it's doable. Tajikistan is a definite off-the-beaten-track destination, and it's also very affordable.
5. China
Ok, so cities like Beijing, Shanghai and Xi'an may not be considered off the beaten path, but China is a huge country! Even if you did travel to the popular cities, you would still sometimes feel like you were the only tourist. Most cities in China have Old Towns for you to get lost in, back alleyways waiting to be explored and invitations for meals waiting to be had.
Even though there are many foreigners in this populated country who are teaching English, most of the people in China don't speak English, but they will try to communicate with you the best they know how. Chinese people love foreigners and are very curious people. Lots of charades and hand motions will play a part in your chat with them, but one thing is for sure, it will be a very friendly conversation.
The ancient sites here are amazing and if you escape the cities, the countryside is stunning. Rolling rice paddies, jagged limestone karsts and towering mountain peaks are just some of the beautiful landscapes you can expect along your journey.
The people in China are wonderful and the history is fascinating, but the food is what really stands out! The majority of the world considers Chinese food to be what's found in the white takeaway boxes of North America & Europe – sweet n' sour pork, chicken chow mein and ginger beef! In China you'll find some amazing, authentic dishes, many of which don't even include noodles. This is one of the most diverse and delicious cuisines in the world.
And yes, China is a very affordable country to travel. Check out our 2-week China itinerary!
6. Mozambique
Africa is a diverse continent filled with wild and raw experiences. Mozambique is a country located on the east coast, just above South Africa. This culture-filled country still has many remnants from its Portuguese past. In some cities you'll find colourful, Portuguese-style buildings and much of the cuisine is made up of flavours from its past conquerors as well.
Mozambique is a country that feels safe, which can be rare on this continent. The people here are smiley, welcoming and love to dance!
The beaches are powder-white and the seas are turquoise blue. If you make your way to the very northern Quirimbas Archipelago, there are some fantastic islands to discover and it's a great place to do some sailing and sleeping under the stars. You can snorkel with Whale Sharks and if you're lucky, scuba dive with Humpback Whales!
Transportation isn't exactly comfortable and the cost of travelling here isn't cheap (although it's not expensive either), but it is definitely an exotic country that should be on your travel itinerary.
7. Mongolia
Mongolia is a nomadic wonderland! This country is one big campground with endless opportunities for trekking, camping, fishing, horseback riding, road tripping and more. The people here are mostly nomadic, sleeping in gers (yurts) and moving from place to place, depending on the season.
The rolling, vibrant steppe is beautiful to not only look at, but its a blast to explore on foot as well! From crystal clear lakes to dry deserts, there's a lot to see and do in Mongolia.
The people here are very mild-mannered and kind. Although most of them can't read maps, they'll try to point you in the right direction if they can. Many of the roads in Mongolia are just dirt paths, which makes this such an adventurous place to travel around. The food in Mongolia isn't exactly a highlight, although there are some good dishes. What stands out the most in this country are the vast expanses of nature and the friendly, warm people.
Veering off of the well-trodden tourist trail may seem intimidating and impossible to some, but once you arrive at these foreign destinations, you'll soon realize that there's actually quite a bit of tourism infrastructure in place. There are just enough fellow travellers around to make visiting these countries one incredible experience. You're never alone in the backpacking world and even if you were, the people of these 7 countries would welcome you in and treat you just like family.
---
Author's Bio:
Nick and Dariece are the couple behind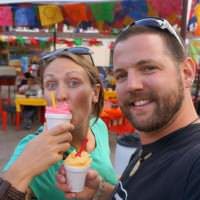 Goats On The Road, a website designed to inspire others to live a financially sustainable, location independent lifestyle. Masters at making money abroad and turning their travels into a way of life, they've been on the road since 2008 and have explored some of the least visited places on earth, finding adventure wherever they go. They're also full time contributors at Travel Pulse and Credit Walk where they share their stories and expertise of long-term travel.